A Candle in the Dark and other tales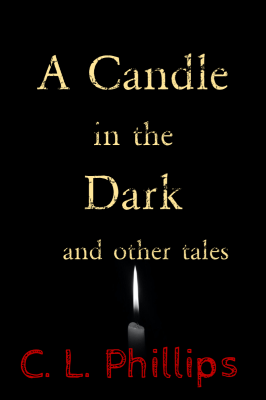 In this collection of eleven stories, C.L. Phillips explores the nature of relationships through the lens of spectacular fiction. A family of magic users faces their past. A witch tries to understand her executioners. A father and son share a traumatic bonding experience. A man makes his way home, crossing a strange, dark land while searching for the love he left behind.
Whether asking for that first date, going on a blind date, or making your way home to a loved one, relationships begin and end, and along the way some wonderful and frightening things can happen.
Sometimes relationships are sad or scary, at moments they can be funny or poignant.  But there is also hope and joy, bonding and healing. And quite often, there is a sprinkle of magic and mystery in the best relationships.
Phillips is an ominously inventive and eerily humorous storyteller."
—Jason M. Waltz, editor Rogue Blades Entertainment
"Here at the beginning of his career, Phillips shows an affinity for crafting short stories. Compelling and unnerving, chilling and entertaining. An impressive collection. He's an author we will be watching closely for the next decade."
—Purple Wall Stories
"C.L. Phillips delves into the familiar depths of Lovecraft and Poe, but unlike other authors who seem to keep finding the same old rotting corpses, Phillips finds fresh bodies electrified by a keen pen and uncommon insight into what we fear…and love. This collection is one of my favorites and belongs on any horror lover's bookshelf."
—Benjamin T. Lambright      Author of Retrofit & Original Copy